---
38 participants came out to Spin and/or volunteer for 12 hours straight. We surpassed our $2000 goal, coming in just over $2500. It's not reflected in our online totals as several checks had to be mailed into Rotary International for processing to the Polio Plus account.
Older updates
---
Why we are fundraising for The Rotary Foundation
Rotary has been working to eradicate Polio for over 35 years. In 1988 there were 350,000 new cases of wild polio every year, in 125 countries around the world. Thanks to the efforts of Rotary and the Global Polio Eradication Initiative, with generous support from the Bill and Melinda Gates Foundation, wild polio exists today in only two countries, Pakistan and Afghanistan. But we must keep working until this crippling disease is removed from the face of the earth once and for all!
World Polio Day is Saturday, October 24. On that day we will hold six 12-hour stationary bike marathon relays, in six locations around our district.
Come join the team, or donate to support your favorite rider as we raise money to eradicate Polio!
Every dollar we raise will go toward Rotary's PolioPlus initiative. And every dollar donated will be matched 2:1 by the Bill and Melinda Gates Foundation! Please join us in this important cause!
---
Polio Fund
Your donation helps Rotary reach every child with the polio vaccine.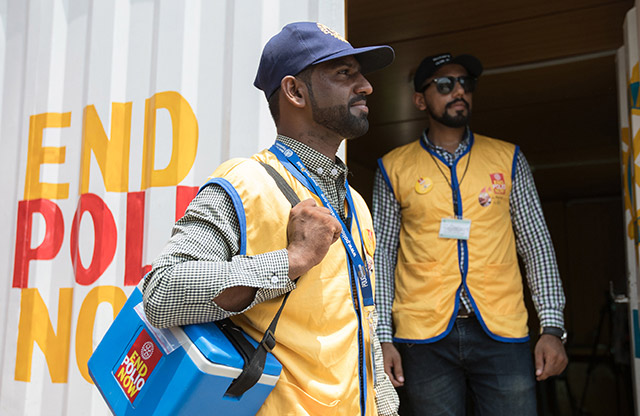 Learn more
---